Showground Farmers' Market
Location
The Adelaide Farmers' Market is located at the southern end of the Adelaide Showground on Leader Street, Wayville. The Market occupies the Market Pavilion and carpark directly adjacent Leader Street and the Goodwood trainline.
Off-street parking is available at the Adelaide Showground,
find out more on our Facilities and Parking page.
---
Contact
Market Office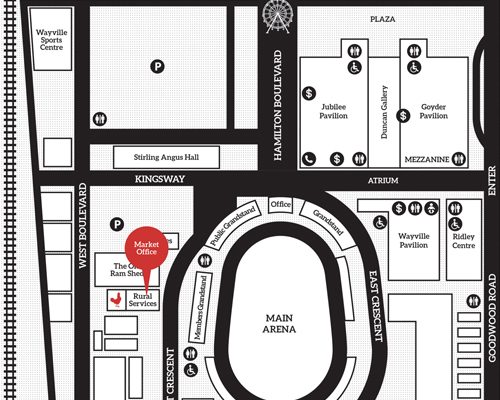 Market Office address ~ click here for map
Adelaide Showground Farmers Market Inc.
PO Box 38 Goodwood 5034
P: 08 8231 8155 (Tues - Fri office hours only)
E: info@adelaidefarmersmarket.com.au
W: www.adelaidefarmersmarket.com.au
Executive Officer
Christine Robertson
crobertson@adelaidefarmersmarket.com.au
Operations Manager
Geraldine Conterno
operations@adelaidefarmersmarket.com.au
Administration Officer
Carol McGrane
admin@adelaidefarmersmarket.com.au
Communications & Media Enquiries
Catherine Woods
cwoods@adelaidefarmersmarket.com.au
Directions
Enter the Showground via the Leader St entrance
Walk past the Market Pavilion towards the middle of the Showground site
Walk past the beef cattle lawn (on your left) and you will come to a two-story building on your left - the Heavy Horse Memorial Building.
(The building is opposite the back of the Grandstand/Members' Banquet Room)
Go to the back of this building and upstairs and our office has the ASFM poster on it.