Sunday 5th April OPEN 9am – 1pm
YES, as an essential service our market remains open.
Remember the clocks change this Sunday! Set them back one hour
We offer an essential service and our market remains open just like supermarkets and other food shops.
The market has moved to a new space inside the Showgrounds to provide twice as much room and reduce overcrowding. From our previous home head north towards The Showground Ferris Wheel with the arena on your right and we are in the Stirling Angas Hall to your left. Car entry will be both via the usual boom gates on Leader St and via Rose Terrace.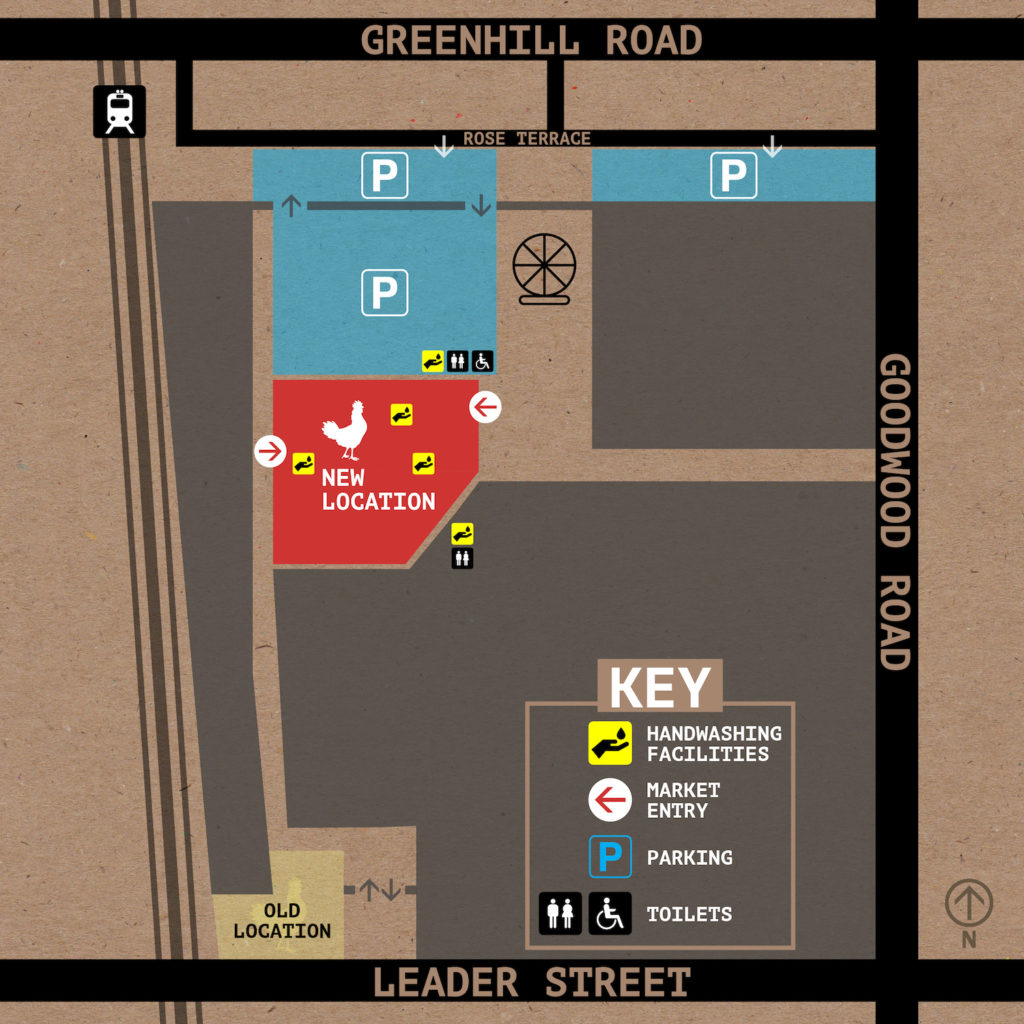 With the livelihood of our stallholders and public health at stake, we ask that shoppers take all sensible precautions:
– Only shop if you are well
– Don't touch food you are not buying (if you touch it, you buy it)
– Use produce bags to pick up food
– Wash you hands and cough or sneeze into your elbow
– Queue considerately, maintaining a distance of 1.5m in all directions
– Only send one person to shop for the household (no couples, carers excepted)
Avoid the morning rush, pre-order your essentials: our list of stalls who take pre-orders.
The majority of stalls now accept cards: plan you cash free shop here
Plan you quick essentials shop and find your favourite stalls in their new locations (final plan will be updated on Friday 3rd April):
Outside stalls: http://bit.ly/ASFMoutsidemap
Inside stalls: http://bit.ly/ASFMInsideMap
Our caterers JamFace, Kuhl Kooking and Sushi by Jo are only selling takeaway food and all tables have been removed, leaving limited seating reserved for the frail or elderly.
Please note: Keep cups and reusable containers are currently banned.
Pooch parking has been suspended please leave non-service dogs at home.
Thank you for supporting our local growers and producers at this very difficult time and for choosing to shop at our market
Fortnightly and Seasonal Stallholders at the market this week:
81 Acres – Card payment
BTS Cafe – NEW cupcake stall – Card payment
The Bucket Project
Creative Native – NEW selling take home bush cuisine – Card payment
Adelaide Hills Fresh Chestnuts – NEW Card payment
The Dairyman – Card payment – pre order email info@thedairyman.com.au
Fiaje Jams – Card payment
Greedy Edie – Card payment
SA Biochar
Stallholders NOT attending this week:
Archy Cooks – Bush Tucker Ice Cream – Cooinda – Darlin' Dal – DJS Citrus – Eko Fruit – Fleurieu Lavender – The Food Forest – Grancari Estate – Lobo Cider – Paloma's Kitchen – Pavlos Fruit – Relish The Barossa – Rohde's Free Range Eggs – Rich Pickings – Riverside Dairy – Sacred Grove
Weekly stallholders offering card payment and pre ordering:
*Please pre-order early so there is time to pack your order before the market*
Adelaide Hills Berry Farm – Card payment
Adelaide Hills Fresh Chestnuts – Card payment – pre order: 08 83898452
Alexandrina Cheese – Card payment – pre order email: rebekah@alexandrinacheese.com.au
Alnda Farms – Card payment – pre orders text: 0407 618 815
Austar Mariculture – Card payment – pre order 0411 851 818
B&A Andonopoulos – Card payment
Bald Hills Olive Grove – Card payment – pre orders email: admin@baldhillsolivegrove.com.au
Barmera Sweet Potatoes – Card payment – pre orders text: 0417 857 077
Barossa Honey – Card payment
Bickleigh Vale Farm – Card payment
Bullcreek Organic Garlic – Card payment
Coorong Wild Seafood – Card payment – pre-order here
Do Bee Honey – Card payment
Feather & Peck – Card payment – pre order at the stall for next week's market
Fleurieu Milk – Card payment
From The Grain – Card payment
FruitWise – Card payment
Gooseberry Hill Farm – Card payment – pre order gooseberryhillflowers@gmail.com
Greedy Edie – Card payment
Gut Feeling – Card payment – pre order online
Handorf Gourmet – Card payment
Hart's Vegetables – Card payment
Harvest The Fleurieu – Card payment
Just Gluten Free – Card payment – pre order info@justglutenfree.com.au
Kuhl Kooking – Card payment – pre order by 5pm Wednesday kooking@adam.com.au
Lato Cakery – Card payment – pre order info@latocake.com
Let Them Eat… – Card payment – pre order form: operations@adelaidefarmersmarket.com.au
Mem Coffee – Card payment
McCarthy Orchards – Card payment
Merry Cherry Farms – Card payment
Mountain Fresh Beverages – Card payment
Murphy's Crossing Free Range Eggs – Card payment – pre order online
N&M Tsimiklis – Card payment – pre order by text: 0412 321 440
Najobe Beef – Card payment – pre order by email: bob@najobe.com.au
Nomad Farms – Card payment ONLY no cash – pre order online
P&L Rogers Mushrooms – Card payment
Paris Creek Farms – Card payment
Patlin Gardens – Card payment – pre order 0411 968 271
Plants in Barrows – Card payment
Pomology @ Tarrawood – Card payment
Riviera Bakery – Card payment – pre order: natasha@rivierabakery.com.au
Salad Greens & Kitchen Herbs – Card payment
San Jose Smallgoods – Card payment – pre orders ring: 0438 832 114
Saskia Beer Farm Produce – Card payment – pre orders text Petar 0497768099
Semaphore Pantry – Card payment – pre order: sema4pantry@adam.com.au
Sunshine Ice Blocks – Card payment – pre order: info@sunshineiceblocks.com.au
Sushi by Jo – Card payment
Taronga Orchard – Card payment
The Garden Farmer – Card payment – info@thegardenfarmers.com.au
T'art – Card payment
Vegie Basket – Card payment – pre order via Facebook Messenger
Vespa Espresso – Card payment
Wild Apple – Card payment
Woodside Cheese Wrights – Card payment
Yummy Veggies – Card payment – pre order text 04470337727
Cash only stalls:

Croissant d'Or – cash only
Flour Power Breads – cash only
Inman Valley Poultry – hope to have card payment next week – pre order at the stand
JamFace – hope to have card payment next week
Lina's Greek Sweets – cash only
Mulot's Patissierie – cash only
Virgara's Garden – cash only
See what's happening at the Market this Month
Discover our full calendar of Free Kids' Activities and Cooking Demos